SPEEDWEEK 2007 DAILY DIARY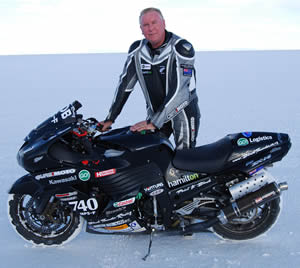 Aug 06

We arrived in Las Vegas okay, however the heat has been almost unbearable. When unpacking the bike we burn't ourselves a number of times, from the hot container and any tools which were left in the sun, something we will have to watch out for. The bike was all okay and intact although the shipping crate had taken some hard impacts in it's journey to Las Vegas.



Chuck Deguvera (Violet's brother) gave us a briefing on the 28ft motor home, which we are taking to the Salt Flats which will be our home away from home for Speedweek, and we picked up a U-haul trailer to lock the bike inside.



We went out to Goodyear Racing in Las Vegas, where Violet's nephew Joe Deguvera works, and is owned by the Shelby's (aka the owners of the Shelby Cobra Mustang). We were treated to a tour through the Shelby Plant in Las Vegas which is out near the Las Vegas Speedway, and saw all of the new Shelby Mustangs and the Original Shelby Cobra's which are located in a museam on the plant.



We were invited to sign the wall at the Shelby Factory, which has thousands of signatures on it! On our return from the tour, Joe Deguvera changed over the tyres for us on to the spares, front and rear wheels, which I brought in the USA. We have the steel valve stems fitted and the new Darbi supplied Continental tyres fitted.



We also got a tour of Goodyear Racing in Las Vegas. Very impressive, all those tyres! For a Nascar meet they take around 8 semi-trailers full of Goodyear Race Tyres, and provide some 80,000 tyres, and each car is provided some 80 sets of tyres each for the racing!



We just missed John Force and his daughters who you may have seen on TV in NZ as top USA Drag Racers, as they were picking up some tyres from Goodyear. We called on a guy called Steve at Las Vegas Dyno Tech who will make his Dyno available tomorrow for some testing on the Kawasaki ZX- 14 Black Thunder.



We also called to get our NOS Bottles filled and Joe Deguvera gave us a 25lb bottle, so we can fill our 1lb bottles from this on the salt. Only problem was the NOS filling place had their pump pack up, so we have to go back tomorrow (Tuesday) to pick up the bottles (NOS - USD$6 per pound!). Tomorrow we are scheduled to Dyno the Kawasaki ZX-14 and change some sprockets, to optimise the gearing for Bonneville.



Neil, Violet and myself are still acclimatising to the heat and the time zones, and are drinking gallons of water and Gatorade to rehydrate, and had an early breakfast at the Boulder station at 2.30am!







Aug 04

Departed Auckland bound for Las Vegas, and to rendezvous with the bike which is waiting for us there.