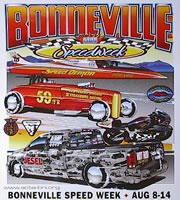 Aug 8

On the salt, with weather around the mid-eighties fahrenheit, which is cooler than previous years.



Using a 42 spoke sprocket, 1st run was 176.833mph, following by a second run of 176.836 mph.



After these runs, made some gearing changes, and fitted a 41 spoke sprocket.



Having trouble getting email working from Wendover, so full daily reports and pictures may have to wait until we get back to Las Vegas.