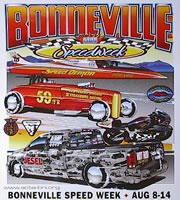 Aug 9

With 41 spoke sprocket sprocket fitted, and gearing changes got up to 193.371 mph in the morning.



The salt got very slippery later in the day, with the next run down to 186.713 mph.



Sadly, there was a fatal accident today, not sure of the details, but believe it was a car doing a run when something went wrong.