SPEEDWEEK 2009 DAILY DIARY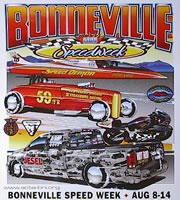 Aug 10

August 10th 2009 at World Famous Bonneville Salt Flats Speed Week in the USA proved again to be a successful day for the Black Thunder Racing Team. Alan Thoresen is running the Black Thunder ZX-14 in 1650cc MPS-F (modified partial streamline fuel class). Present record stands at 214 mph. This morning Alan ran 198.080 mph on the short course, just 16mph short of the needed speed for a world land speed record. Alan is well known in drag racing in NZ, and holds the No 1 Title for Modified Bike for 2009.



Dean Veale ran 193 mph against a 191.6 record taking him to impound for the night, in the morning at 6am (Aug 11 2009) Dean will be doing his back up run to claim the record for AG (special construction) 1650cc. This is Dean's first visit to Bonneville, and he was invited by Alan to accompany the Black Thunder Team who are on their third race campaign to Bonneville with the Kawasaki ZX-14 "Black Thunder". Dean is also well known in drag racing in NZ, as he holds the No 1 Title for competition bike.



Racing at the 61st Bonneville Speed Week continues tomorrow with both Alan and Dean running to improve their speeds over the next few days.